Ok - so here's my special shout out for the amazing class I am soooo excited for!
Dirty Footprints Studio has been rocking some awesome classes lately.. Personally I enjoyed rocking out BIG in Fearless Painting: BIG during the summer. And even joined in on the
Art Journal Love Letters
workshop and make some juicy juicy journal pages using some tips and techniques it offers.
BUT.. today..
I'm here to talk about...
Drum Roll....
21 Secrets.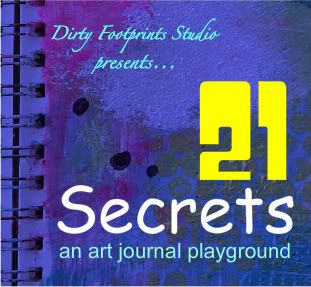 What is this? Only probably the most awesome sounding oober juicy creative heart explosion out there!!
Can you tell I'm excited??
We're talking 21 Artists.. 21 Art Journaling Secrets baby!!
Where can you read more about this? Why right
HERE
.
Who's featured?
Well the hostest with the mostest Connie from Dirty Footprints Studio, of course.. I'm sure she will have LOTS more to inspire us all as she has been doing alll freaking summer!! Wooo!
There's also a few ladies I took BIG with taking on the Teacher role.. Tracie Hanson, Lisa Wilson, Lis Hofmann, Tami Chacon.. These ladies were wonderfully inspiring through BIG so I can't wait to see what they have in store for this worky shopy.
And my curiousity is also with Sarah Whitmore.. whom I have been peeking at through the Yahoo Soul Journaling group..
So.. scoot your little self over to the Dirty Footprints Studio on MONDAY, Sept 20. to sign up for this feast of creativity they are unleasing on us all!!
YEAAAA...
LOVE and CREATIVITY.